Who is responsible?
Laws and the responsibilities of public authorities
The extraction of raw materials is regulated in Germany by regulations such as the German Federal Mining Act (BBergG). In 1982, it replaced the old mining laws of the Federal States and the numerous ancillary mining laws of the Federal and Federal State governments. The BBergG is supplemented by various ordinances on mining law issues. The overall control of the mining law within the Federal Government is the responsibility of the Federal Ministry for Economic Affairs and Climate action. The mining authorities of the Federal States (see chart below) implement the BBergG and also bear the responsibility for the authorisation and supervision of mining activities (depending on the natural resources in question). The Federal States have passed some mining regulations of their own in order to meet the specific requirements and characteristics for areas not covered by the BBergG. The coalition agreement provides for the modernisation of mining law. However, a draft bill for the modernisation of mining law is not yet available.
Germany differentiates between three groups of natural resources in terms of their legal regulation:
Depending on the Federal State, the natural resource and the type of extraction involved, middle and lower-management levels of governmental bodies are responsible for the landowners' natural resources category.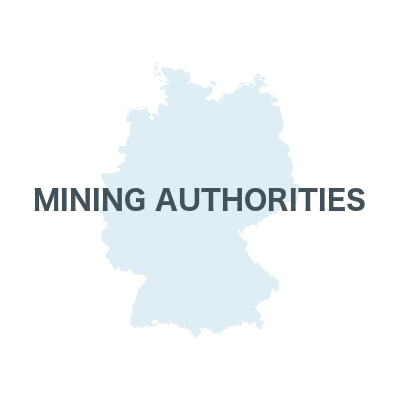 Mecklenburg-Western-Pomerania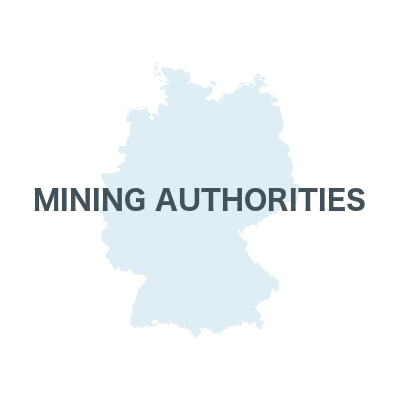 Mecklenburg-Western-Pomerania
Free-to-mine natural resources (subject to mining law)

Privately-owned natural resources (subject to mining law)

Landowners' natural resources (not under mining law)

Subject-specific division

Energy resources: coals, hydrocarbons (including oil and natural gas), geothermal energy

Industrial minerals: fluorite, graphite, lithium, phosphorus, all salts that are readily soluble in water, sulphur, barite, strontium, zirconium

Metal ores: e.g. iron, copper, lead, zinc ores, etc.

Also: all natural resources in the area of the continental shelf and coastal waters (including gravel and natural stones)

Industrial minerals: bentonite and other montmorillonite clays, feldspar, mica, kaolin, diatomaceous earth (diatomite), 'pegmatite sand', quartz (quartz sand and gravel) & quartzite (if suitable for refractory products and ferrosilicon production), soapstone, talk and clay

(if fireproof and acid-proof).

Quarried natural resources: basaltic lava (except columnar basalt), roofing slate, trass.

Also: all privately-owned natural resources, which have been extracted underground (incl. gypsum, natural stone, brick clays etc.).

Quarried natural resources (in opencast mining): anhydrite, gypsum, limestone, basalt columns and other natural stones, gravel and sand, quartz and quartzite (if unsuitable for the manu- facture of refractory products and ferrosilicon) and other natural resources not listed in this table

Also: peat

Right of disposal over natural resources

These natural resources are "free", i.e. they do not belong to the landowner. Their exploitation requires mining rights and the permission of the mining authorities.

These mineral resources belong to the landowner. The landowner is entitled to use them.

Regulated pursuant to the BBergG

§ 3 (3)

§ 3 (4)

Governed by other legal jurisdictions, e.g., construction law (Excavation Law), Water Resources Act or State Water Act, Federal Immission Control Act, Federal or State Nature Conservation Act.
Corrupt behaviour may occur in many different forms and in different areas of society. Whether it is bribery or corruption in international business transactions or domestically and whether corruptibility can be found in politics or in the administration, corruption undermines the foundation of a society by damaging the citizens' trust in the state and business and it can also cause material damage.
In Germany, different rules and instruments for the prevention and prosecution of corruption in administration, politics and business apply. These include laws, administrative regulations and measures to raise awareness. As corruption often takes place covertly, transparency is a key to preventing and recognising illegitimate practice.
Authorities make decisions and set rules, in particular for activities in the private sector. Office holders are exposed to certain risks of corruption in the course of performing their duties. The German Penal Code (StGB), in particular, governs the relevant actions and penalties under criminal law.1 Accepting and granting undue advantage, corruption and bribery are punishable by law. The sentence ranges from three years (§§ 331, 333 StGB) to 15 years (§ 335 (1) No. 2 StGB). Corruption on the part of judges (§ 332 (2) 2 StGB) and corruption and bribery of elected representatives (§ 108e StGB) are indictable offences and risk a prison sentence of between one and ten years.
Civil servants employed by the federal government are not allowed to ask for, be promised or accept any rewards, gifts or other advantages in relation to their office/their professional duties for themselves or for a third party (§ 71 of the German Federal Civil Service Act (BBG)). The equivalent law for civil servants employed by Federal States or municipalities is § 42 of the Civil Service Status Act (BeamtStG). The prohibition applies to all advantages of an economic and non-economic kind.
A similar regulation applies to employees paid under the collective agreement (salaried employees and workers) as set out in § 3 (2) of the Collective Agree- ment for the Public Service (TVöD): It is not permitted to accept or request rewards, gifts, commissions or other benefits that relate to their professional duties.
Civil servants are subject to separate obligations in Germany such as the duty to maintain confidentiality and the obligation to work through official channels. In connection with corrupt activities, they are however entitled according to § 67 (2) sentence 1 No. 3 BBG and § 37 (2) sentence 1 No. 3 BeamtStG to report a suspicion of a corruption offence according to §§ 331 to 337 StGB to the highest administrative authority, a law enforcement authority or other agencies without following official channels.
Besides the statutory regulations the prevention strategy in the area of the federal administration is essentially based on the German Federal Government Directive concerning the prevention of corruption in the Federal administration from 2004 and the annexes thereto.2 The administrative regulation states concrete measures to avoid corruption, e.g. the regular identifi- cation of areas of work that are particularly susceptible to corruption, the cross-check principle, the appointment of a contact person for corruption prevention, raising awareness and further training for employees and guiding principles for awarding public contracts.3
At EU level there is the following important require- ments: Directive 2017/1371 dated 5 July 2017 of the European Parliament and the Council on applying criminal law to combat fraud directed against the financial interests of the Union and the agreement based on Article K.3 (2) (c) of the European Union's treaty on combating bribery in which officials of the European Union and the EU's member states are involved.
Separate regulations apply to government administrations at Federal State level. They are essentially based on the German Federal Government guidelines.
At municipal level, too, there are numerous regulations and measures to prevent corruption such as official procedures, codes of conduct and contact persons. In view of municipal self-government guaranteed in Art 28 (2) of the German Basic Law, municipalities are granted the right to regulate all local matters in their own responsibility within the framework of the law. As a rule, local administrations take detailed anti-corruption precautions.6
Bribery and corruption of elected representatives
Anyone who has a political mandate bears particular responsibility for the integrity of the political system in Germany. Corruption in the form of bribery and venality (e.g. "vote buying") damages this integrity and thus democracy. In order to counter this risk, in 1994 it became a criminal offence to bribe a member of parliament. Following the implementation of the United Nations Convention against Corruption, the offence was broadened in 2014 and § 108e StGB was rewritten under the title of bribery and corruption of elected representatives. As of 19 October 2021, the penalty was made considerably tougher. As a result of this, bribery and corruption involving elected representatives is punished by a custodial sentence of between one and ten years, with less serious cases being subject to sentences of between six months and five years.
Prevention and control through transparency
Corruption is a crime that is committed covertly and those involved have no interest in it being discovered. In addition to this, the concrete losses for individuals and the general public can generally not be ascertained or only at a later date. Important instruments in the fight against corruption are therefore measures to create transparency. Relevant measures here are regulations to combat money laundering through disclosing "beneficial owners" via the transparency register (see chapter 3 c.ii). In addition, the transparency rights permitted in the environmental information law allow the disclosure of contents of authorisation decisions, which the companies extracting natural resources require for their practical work, including to avoid environmental pollutants that would break the law (see chapter 3.b.v).
Another instrument is the reporting of corruption by employees in companies and authorities (whistleblowers). They are often the first to notice abuses and, through their tips, can ensure that violations of the law are uncovered, investigated, prosecuted and stopped. At government level, offices exist to report corruption, for example the German Federal Financial Supervisory Authority (BaFin) and the Criminal Investigation Authorities of Federal States or in the form of ombudsmen in different Federal States and municipalities. The contact persons for corruption prevention (at the federal level according to section 5 of the guideline for corruption prevention) also receive reports on suspected cases of corruption.
In December 2019, Directive (EU) 2019/1937 on the Protection of Persons Reporting Breaches of Union Law came into force. The draft law for better protection of whistleblowers and for the implementation of the Directive on the Protection of Persons Reporting Breaches of Union Law, adopted by the Federal Cabinet on 27 July 2022, is currently being debated in the German Bundestag. The law will also apply to the reporting of criminal offences, so that the reporting of corruption offences under § 321 et seq StGB is covered.
The Federal Criminal Police Office provides information on the annual development and corruption statistics in its Corruption National Situation Report (Bundeslagebild Korruption). Each year the Federal Ministry of the Interior publishes an Annual report on corruption prevention in the Federal administration ("Integrity report" from the 2020 reporting year), with accountability to the German Bundestag as regards the implementation of the corruption prevention directive.
Corruption is damaging for business and society and, furthermore, it is prohibited. Corruption in the form of bribery and corruption in business transactions is punishable (§ 299/§ 300 StGB) and can result in a fine or custodial sentence of up to three years or a custodial sentence of between three and five years.
Many companies support the 17 goals for sustainable development (Sustainable Development Goals, SDGs), which emphasise, for example, Goal 16 "Peace, justice and strong institutions" and, more especially, target 16.5 "Substantially reduce corruption and bribery in all their forms".
Based on ten universal principles and the Sustainable Development Goals, the UN Global Compact (UNGC) pursues the vision of a more inclusive and sustainable economy to the benefit of all people, communities and markets, today and in the future. There are currently signatories in more than 170 countries, representing over 19,000 companies and organisations from civil society, politics and science. In Germany there are more than 800 participants, covering approx. 740 companies ranging from those in the DAX to mid-sized companies and SMEs. In Principle 10 of the UNGC to combat corruption, companies are urged to "work against corruption in all its forms, including extortion and bribery".
Other sustainability frameworks also include principles or requirements in the field of anti-corruption. Thus the German Sustainability Code (GSC) lists in its criterion twenty behaviours that are compliant with legislation and guidelines. The user group includes large and small companies, in the public and private sectors and with and without sustainability reporting, companies with mandatory reporting obligations and all those companies and organisations that want to inform their stakeholders about their sustainability performances. Selected indicators of the Global Reporting Initiative (GRI) and the European Federation of Financial Analysts Societies (EFFAS) must be reported.
Compliance is generally understood to mean ensuring that a company, its bodies and employees and, if applicable, third parties act in compliance with the rules in respect of all statutory, internal company and external regulations that relate to the company by taking suitable measures. This does not only include observing the rules per se but it also involves implementing appropriate measures to organise compliance with the rules through formal and informal means. Compliance Management Systems in a company build on a risk-based approach which, in addition to avoiding types of behaviour that will bring penalties under criminal law and punishments in the form of fines, pays attention to the long-term interests of the company, ethically justifiable actions, reputational risks and special liability risks. Compliance rules and a Code of Conduct play a central role as an instrument for prevention and are the core element of an effective Compliance Management System.
In their Code of Conduct7, which the companies generally formulate a zero tolerance policy regarding corruption, which is generally binding for all employees.
Although an explicit and generally applicable legal regulation on compliance does not exist, some requirements (some of which are specific to a legal form) come close to compliance. One can mention here, for instance, the legislation on administrative offences, company law (§ 43 GmbHG or § 93 AktG) and the German Corporate Governance Code (DCGK). Furthermore, there is a series of special legal regulations such as the Insurance Supervision Act for insurance companies, the Securities Trading Act (WpHG) for companies in the field of financial management, the Commission Delegated Regulation (EU) 2017/565 of 25 April 2016 supplementing the MiFID II Directive as regards the organic requirements for investment firms, the German Investment Services, Conduct of Business and Organisation Regulation (WpDVerOV), the German Banking Act (KWG) and the circulars of the Federal Financial Supervisory Authority (BaFin), which include the minimum requirements for risk management and the minimum requirements for the compliance function and additional requirements governing rules of conduct, organisation and transparency.
If a company fails to implement appropriate compliance measures and if, as a result, a corruption offence occurs, a regulatory fine against an association of persons pursuant to §§ 130, 30 of the German Act on Regulatory Offences (OWiG) can be imposed on a company. The respective compliance requirements are not specifically regulated by law in relation to this.
1 In addition to the Criminal Code, corruption offences are also punished, for example, by disciplinary and labour law.
2 Code of Conduct and guidelines for managers and the management of authorities.
3 The German government regularly reports on the situation in its "Annual report on preventing corruption in Germany".
4 United Nations Convention against Corruption, ratified by Germany in 2014.
5 The Criminal Law Convention was ratified by the Federal Republic of Germany in 2017. The Civil Law Convention has not yet been ratified because the Federal Republic of Germany has not yet fulfilled all the requirements, especially those that refer to the protection of whistleblowers. In addition, ratification would require an authorisation of the EU, as the Convention affects competences under Union law.
6 The municipalities provide information on the Internet about corruption prevention and contact persons, see for example Wiesbaden, capital of the Federal State of Hesse: https://www.wiesbaden.de/vv/oe/beauftragte/141010100000066754.php
7 Wintershall Dea, Heidelberg Materials and K+S Minerals and Agriculture GmbH, for example, publish their codes of conduct on their respective company websites: https://wintershalldea.com/sites/default/files/media/files/Code_of_Conduct-DE.pdf, https://www.heidelbergmaterials.co/sites/ default/files/assets/document/db/5d/hc-code-of-conduct-2020-en.pdf, https://www.kpluss.com/de-de/ueber-ks/wofuer-wir-stehen/code-of- conduct/