In Germany, the Federal State in question only grants the right to explore and extract free-to-mine natural resources. The right of disposal over a free-to-mine natural resource is designated as the right to mine, which can be requested from the mining authorities of the Federal States (see chapter 3.b.).
Pursuant to § 75 of the BBergG (German Federal Mining Act), the mining authorities keep mining authorisation books and mining maps, in which newly- granted mining rights are entered (pursuant to the BBergG) or "Old Rights and Contracts" are maintained pursuant to § 149 of the BBergG.
Public inspection of these mining authorisation books and mining maps was initiated within the framework of the implementation of the D-EITI. Since 21 July 2017 and pursuant to § 76 (3) of the BBergG, the following information on granted and maintained mining rights can be viewed upon application to the mining authorities (without evidence of a legitimate interest):
Permits and authorisations for mining exploration can also be inspected as a result of the legal amendment.
The competent authorities may also make this infor- mation directly accessible to the public, and this has already been taking place for some time now in many Federal States. In this way, several Federal States publish a transparent online licence cadastre (i.e. land registration). Other Federal States are also planning to set up similar systems.
One good example of the publication of information on mining rights on the Internet is the NIBIS map server of the Lower Saxony State Office for Mining, Energy and Geology (LBEG). On this website, citizens can obtain information about 400 specialist maps on topics such as contaminated sites, mining, soil science, erosion, geology, geothermal energy, geophysics, hydrogeology, geologic engineering, climate and natural resources. With regard to mining rights, the NIBIS regularly makes the following data available for viewing by the public on the map server for the Federal States of Lower Saxony, Bremen, Hamburg and Schleswig-Holstein:
Mining rights in the NiBiS map server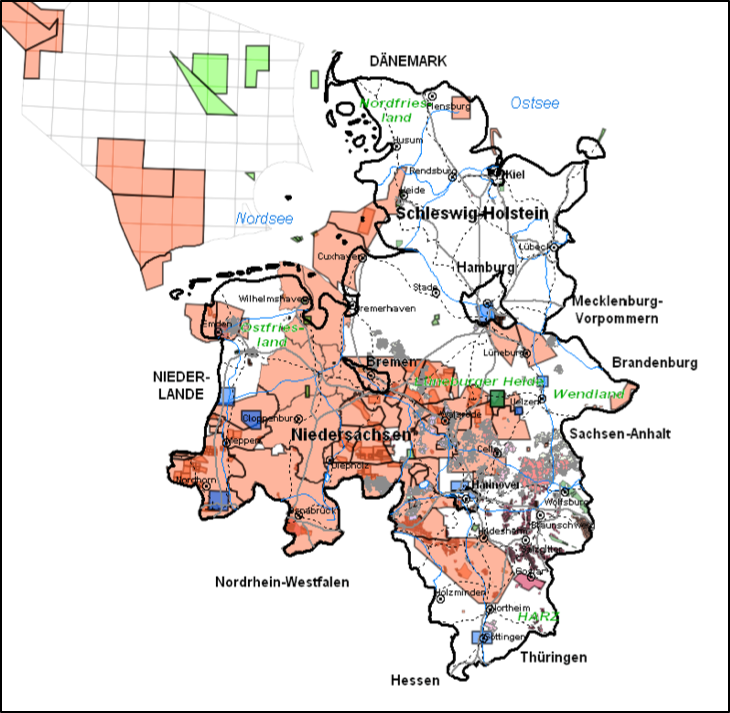 Other Federal States have also created online sites for inspecting the mining authorisation book and mining map. Examples here are Baden-Wuerttemberg at https://maps.lgrb-bw.de/, Berlin and Brandenburg at http://www.geo.brandenburg.de/lbgr/bergbau, North-Rhine Westphalia at https://www.geoportal. nrw/ and the Saarland at www.geoportal.saarland.de .